Reliable Security System Provider for Government Buildings in Beaumont & Tyler, Texas
Advanced System Alarm Services provides high-tech security solutions to fortify and secure government buildings. In affiliation with industry-leading security companies like NAPCO, Alarm.com, and Honeywell we proudly present you top-grade security system for upgrading your security standards. Make your environment safer with our Smart Security System.
Enhanced Security Measurements
security-cameras-on-government-building
Government buildings and offices have citizens going in and out for various purposes. Whether it is for passports or legal leases, a vast number of the population visits government offices on the daily and there is no telling whether someone has ulterior motives in their head.
Contact Advanced System Alarm Services to enhance your security standards and better safeguard your liberty. Our expert technicians install the security system under your profound supervision. We then hand over the instructions and the Alarm.com App that gives you access to additional functions like streaming video footage directly from the app along with taking snapshots and recording videos.
Along with intelligent security systems we also provide smart access control panels and highly responsive fire alarm systems for home and businesses.
Indoor & Outdoor Wireless Surveillance System
Our sophisticated wireless CCTV surveillance cameras allow you to monitor your indoor and outdoor activities in HD resolutions. Stay care-free with our durable cameras in place because intruders cannot cut wires to interrupt your video footage as the products are wireless. Additional features include:
outdoor-cctv-surveillance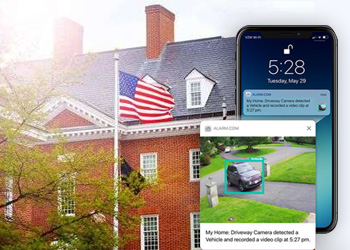 HD 1920x1080p Video Resolution for Sharp Image
Integrated Motion Sensors
Real-time Notification Alerts
Night Vision
24/7 Video Footage
Cloud Storage
Wireless Connectivity
Streaming & Snapping features
5x Zoom for in-depth view
Enduring; weather and rain-proof
Access Control
Keep track of every government employee entering and leaving the building with our digital access control panel. Give selected employees special access to certain areas of the building and keep unauthorized personnel from entering. Either it is a single door or multiple doors, grant access, or modify directly from your mobile device using the Alarm.com app.
Fire Alarms
Alert all personnel within your building to evacuate and gain immediate fire department service using our fire alarm system. Under an event of a fire, the distress signal is sent to us even if your communication system is down and we will immediately call the local fire department to your address for you. Our state-of-the-art fire and smoke detectors come with advanced technology like carbon monoxide detection to quickly detect fire. We try our best to keep the casualties to a minimum.
Authorized Alarm.com Dealer
Advanced System Alarm Services is an authorized Alarm.com dealer with all legal rights claimed in Beaumont & Tyler, Texas. We provide authentic products for home and business security maintaining fresh conditions with viable warranty. Alarm.com powers the most reliable and tamper-resistant technology, along with an app that allows you to monitor, arm, disarm, and perform more functions remotely through your phone. Gain superior service that is reliable with our hand-to-hand collaboration with Alarm.com.
Contact Advanced Systems Alarm Service for Professional Security Solution
We are committed to serving first-class security solutions to fight from intruders, harm do-ers, and disaster for your safety concerns. Our professional security services are also admired by schools and healthcare facilities all over Texas.
Call us at 409-204-4898 or contact us online for best-in-class security solutions for government buildings. We are available across Frankston, Garrison, Douglass, Palestine, Port Arthur, and dozen other surrounding areas in Texas.