Doorbell Camera Installation Service in Beaumont & Tyler, TX
Video doorbells or doorbell cameras are designed to provide unparalleled convenience and passage to your house or business. An LAPD investigation found that police used video doorbells built into their home security systems to reduce intrusion into the neighborhood under test. Surprisingly, there was a 50% reduction in burglaries. Criminals are always looking for gentler, lower-risk targets. A smart video doorbell like a ring helps improve security and access.
The Advanced Systems Alarm Services team employs only the best technicians at Beaumont & Tyler. It implies that the video doorbell can be properly installed and integrated. By hiring only technicians with many years of experience, we maintain a certain level of quality standards. Our team can install your favorite devices such as Ring and Nest or guide you through various video doorbell options.
We pride ourselves on providing the highest level of service and expertise to our individual and corporate customers in Allen, Huntsville, Ace, and Alto. Call us today at 409-204-4898to install a doorbell camera in your residence or office spaces if you reside in our service area.
Benefits of Having a Doorbell Camera
Installing a doorbell camera is an easy and inexpensive way to make your life easier and safer in various ways: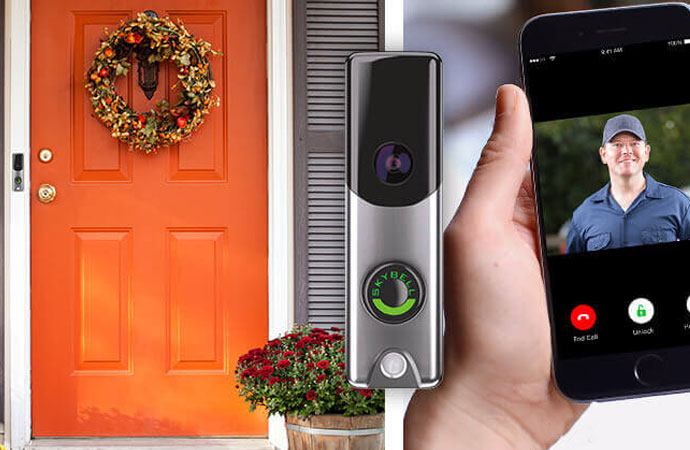 Answering the front door is annoying when you're working upstairs, busy in the kitchen, enjoying a laid-back summer day in the garden, especially when someone is trying to sell something to you. With a smart doorbell camera, you can safely ignore strangers without risking missing a visit from a friend or family member.
In the worst case, doorbell cameras can provide video evidence of intrusion. It may be enough to help the police catch the criminal and get your belongings back before they are sold. Even if this is not possible, video footage allows insurance companies to validate your claim and pay it faster.
The thief rings the doorbell and pretends to be a legitimate caller, like a salesperson or advertiser. It is one of the most common burglary methods. If you do not open the door, they know you are not at home and will find it much safer to break in. Having a visible camera on your doorbell is an excellent defense against such attacks. At least you know the robber was captured on video footage.
Need to Install Doorbell Camera? Choose Advanced Systems Alarm Services
Advanced Systems Alarm Services is a family-owned company providing IP Camera, Floodlight Camera, Analog Camera, PoE Camera, and Doorbell Camera installation service. If you need our assistance, do not hesitate to call us at 409-204-4898 or contact us online. Our technicians will go beyond the basics to satisfy your needs.