Safer Home with Surveillance in Lancaster & Batson, TX
Advance Systems Alarm Services is the most reliable provider of smart irrigation products in Addison & Kirbyville, TX. Gardens beautify a home like nothing else and a smart garden is only a logical extension of a smart home, using technology to work harmoniously with nature. This is why we pay a great deal of attention to make sure our customers find with us what they need for their smart gardens.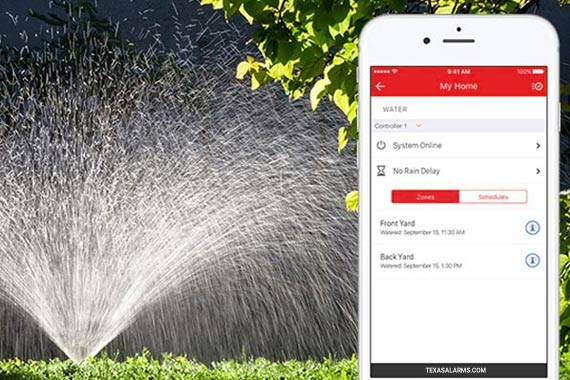 Smart Irrigation for Outdoors
Some of the products by Advance Systems Alarm Services for smart irrigation- patented by industry leaders like Alarm.com are:
Smart sprinklers
Weather sensors
Soil moisture sensors
Rainwater tank monitors
Smart lawn mowers
Irrigation accounts for an astonishing 70 percent of all freshwater usage worldwide. With increasing concerns about climate change and drought, tech advances that are driving efficiencies in the agricultural sector are also benefiting other water users such as homes, schools, and businesses.
This offers the opportunity to make the smart garden a functional extension of the smart home, not only saving the home owner's money but offering the reassurance that your garden will be well cared for even when you're away.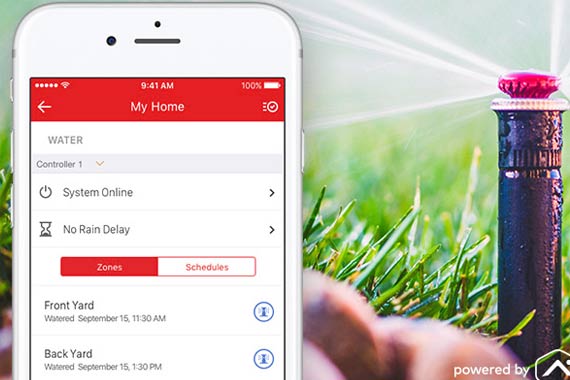 Benefits & Features of Smart Irrigation Systems
With up to 40 percent of household water consumption going into the garden, smart irrigation controllers can deliver big savings, overseeing complex watering plans for multiple garden areas.
There are many practical benefits to smart irrigation systems, including:
Scheduling for watering in the evening rather than during the heat of the day
Dynamic responses to changing conditions to further improve garden water efficiency
Monitoring the weather, soil moisture levels, evaporation rates, and plant water use
Automatically adjusting watering regimens to match actual conditions in real-time
Weather-based smart irrigation controllers can:
Monitor meteorological data from the internet
Conduct on-site measurements of temperature, wind, solar radiation, and humidity
Soil moisture sensors buried in the root zones of lawns, trees and shrubs can:

Accurately assess moisture levels in the soil
Transmit this information directly to the controller
As seasons and temperatures change or when rain falls, smart irrigation control can take into consideration site-specific variables such as:
Soil type, using feedback from sensors to suspend irrigation when there's enough moisture in the soil
The system can then deliver on-demand irrigation within set times when soil moisture levels fall too low.
Why Choose Advanced Systems Alarm Services?
ASAS has earned itself a very respectful position in the customers' minds since its beginning. Our trained & experienced professionals are dedicated 24/7 to your service in Addison, Kirbyville, Lancaster, Batson, and other places of the Golden Triangle region of Southeast Texas. They will install any device you need. Just call us today at 409-204-4898 to schedule your appointment.