Smart Plugs in Beaumont, Tyler, & Nederland
Smart homes give homeowners control over everything from energy use to home security. But transitioning to an entirely automated home can be a little overwhelming. Smart plugs (sometimes known as smart sockets or smart outlets) let homeowners turn any device into a smart device. Advanced Systems Alarm Services offers state-of-the-art smart plugs to customers in Beaumont, Tyler, Port Arthur, Silsbee, and dozens of other cities within our service area in Texas.
Smart plugs are an easy-to-use introduction to the world of home automation because they can function independently. But they can also easily integrate into home monitoring systems that support a number of Z-Wave smart outlets.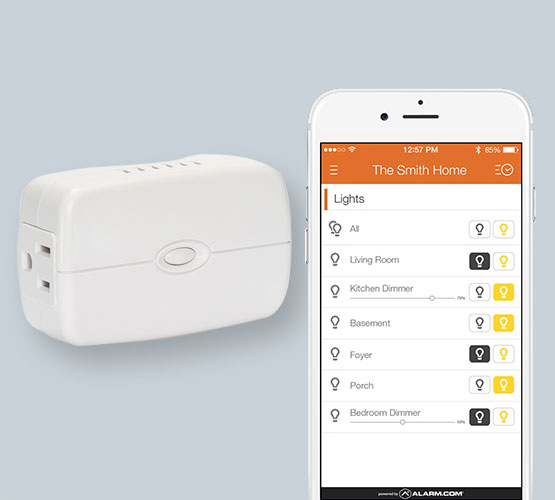 What are Smart Plugs?
Looking a lot like travel adapters, smart plugs turn any regular light or appliance into a smart appliance that can be controlled by an app or voice assistant. Some smart plugs can also monitor energy usage and control other smart devices. And the best part is how simple they are: all you need to do is plug any appliance into the smart plug and then plug the smart plug into the wall socket.
Smart plugs connect to an app on your smartphone via Wi-Fi or Bluetooth, allowing you to control whatever appliance is connected to that plug, often without the need for a separate smart hub at your home or office in Gallatin, Lindale, or Moscow.
Once connected to an appliance, smart plugs allow users to create "scenes." Scenes are small IFTTT (If This Then That) programs that can adjust your lighting, coffee maker, washing machine, and other appliances based on the time of day, the temperature, or anything else your smartphone measures. The best smart plugs won't sacrifice any wall outlets by taking up too much space, and different plug designs are available to accommodate different space requirements.
Choose Advanced Systems Alarm Services for Smart Plugs in Port Neches & Nederland
ASAS has established legions of satisfied customers because our trained & experienced technicians are dedicated 24/7 to your service in Coldspring, Port Neches, Nederland, Onalaska, Sabine Pass, and throughout our Texas-based service area. Let us install smart plugs to enhance your electronic devices. Just call us today at 409-204-4898 to schedule your appointment.