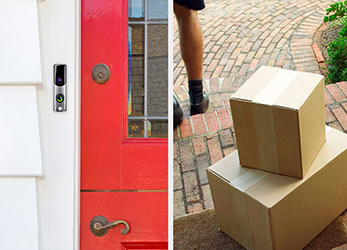 Stop Package Thieves and Porch Pirates in Beaumont & Tyler, TX
Today's shopper typically orders products online from Amazon and other suppliers, with an eye toward having a box delivered on his or her porch within a few days. However, many of those packages arrive when no one is home. That has led to a rising number of package thieves or "porch pirates," who steal packages from doorsteps and mailboxes. Stealing packages is considered a felony offense and the security experts at Advanced Systems Alarm Services offer smart doorbell services to put the brakes on such criminals in Beaumont, Tyler, Port Arthur, Whitehouse, and other cities within our Texas service area.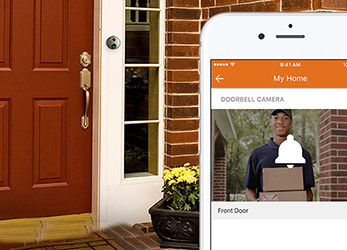 Prevent Porch Pirates & Thieves from Stealing With a Smart Doorbell in Texas
You should take the necessary steps to prevent such thieves from stealing your next order that arrives at your doorstep. We help you do exactly that!
In affiliation with Alarm.com, Advanced Systems Alarm Services offers you top-grade Smart Doorbells that comes with integrated Video Camera that helps you capture package thieves just as they attempt to steal your package. The camera is fairly small enough to not let anyone be aware of it even being there but is still capable of delivering HD video footage.
Features of a Smart Doorbell to Help Fight Package Thieves
The Smart Doorbell comes with a lot of features that all-together helps you fight porch pirates. It also allows you to monitor live video footage through the Alarm.com App that comes with the product. Other features are as follows:
Motion Sensor Alerts

Smart Doorbells comes with built-in motion sensors that send you alerts via the Alarm.com App when someone wanders outside your door. This alerts you when an intruder enters your property and especially helps detect package thieves.

Live Wireless Monitoring

The Alarm.com App allows you to wirelessly monitor your front porch directly from your mobile device. The Smart Doorbell video camera is capable of high-quality 1080p video footage that gives you a clear image of anyone outside.

Night Vision

The Smart Doorbell Camera features a night mode that allows you to see during the night time as well, giving you full-color 1920x1080 resolution so that you can detect and catch thieves at any hour of the day.

Camera Quality & Functions

The camera captures High-definition video with a 2-way audio system with additional functions of capturing pictures. You can take snapshots of anyone you feel suspicious about. The camera quality also lets you zoom 5x times for you to take a closer look.
You can also install our state-of-the-art smart locks and Ring Doorbell that can be controlled by your Alarm.com app.
Contact Advanced System Alarm Services for an Anti-Theft Video System in Your Texas Home
Secure your house and any package deliveries against thieves by having our multi-functioning Smart Doorbell installed at your front door to monitor your front porch on a 24/7 basis. Our security services are available in Trinity, Dayton, Coldspring, Bullard, Bridge City, and surrounding areas in Texas. Call us at 409-204-4898 or contact us online for more information.