Glass Break Detectors in Golden Triangle Region, Southeast Texas
Advanced Systems Alarm Services provides glass break detectors of the highest quality for homes in the Golden Triangle Region, Southeast Texas. Our products are patented by industry leaders like Alarm.com which ensure quality and trust.
What is a Glass Break Detector?
A glass or door break detector is a sensor used in electronic burglar/intrusion alarms that detects if a pane of glass is shattered or broken. These sensors are commonly used near glass doors or glass store-front windows. Glass break detectors usually use a microphone, which monitors any noise or vibrations coming from the glass. If the vibrations exceed a certain threshold (user selectable) they are analyzed by detector circuitry.
Residential Glass Break Detectors by Advanced Systems Alarm Services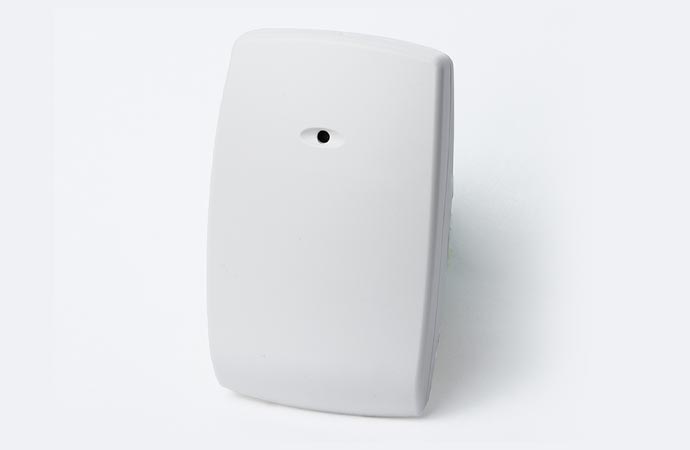 Acoustic/Sound Based Sensor: It is used to detect the breaking of glass window panes and glass surfaces in buildings. It reacts to the change of air pressure accompanied by the characteristic sound of breaking glass. A microphone inside the sensor can pick up on the unique auditory signature of glass breaking within 15 feet from any angle. Because of their range, they can be mounted on the wall or ceiling of a room and monitor more than one window at a time.
Passive Glass Break Detectors: These glass break detectors are designed to detect the specific ultrasonic frequency range produced by breaking glass.
Shock/Vibration Sensors: These glass break detectors work by detecting the physical vibrations of the window pane. A break-in is detected as soon as the intruder attempts to force, smash, drill, or even saw the protected window, frame, or door, which means the alarm is activated whilst the intruder is still outside. This minimizes damage to the building and maximizes personal security, since shock sensors can be armed 24 hours a day, allowing unrestricted movement throughout protected premises.
Why Choose Advanced Systems Alarm Services?
ASAS has earned itself a very respectful position in the customers' minds since its beginning. Our trained & experienced professionals are dedicated 24/7 to your service in Coldspring, Gallatin, Lindale, Moscow, and other places of the Golden Triangle region of Southeast Texas. They will install any device you need. Just call us today at 409-204-4898 to schedule your appointment.