Video Doorbell Camera Installation in Beaumont & Tyler, TX
Video doorbell cameras are designed to provide unparalleled convenience and home or business security. These systems are shown to reduce burglaries and other property intrusions, as criminals consider homes or businesses with video doorbell cameras to be more difficult, higher-risk targets.
Advanced Systems Alarm Services employs superior technicians in Beaumont, Tyler, Dallas-Fort Worth and other Texas areas. We install and integrate video doorbell systems with expertise and experience. ASAS is an authorized dealer of Ring, Nest and more video doorbell system brands or products. We'll help you sort through the various options.
Advanced Systems Alarm Services has the resources, expertise, and experience for reliable video doorbell camera installation for your home in Addison, Anna, Dallas, Nederland, Beaumont, or throughout our D/FW and East Texas service area. To learn more about video doorbell camera installation options, call 409-204-4898 or contact us online to arrange a home security consultation.
Why Video Doorbell Cameras By Advanced Systems in D/FW & Beaumont, TX?
Having the professionals at Advanced Systems Alarms Services install your new video doorbell camera system has these benefits: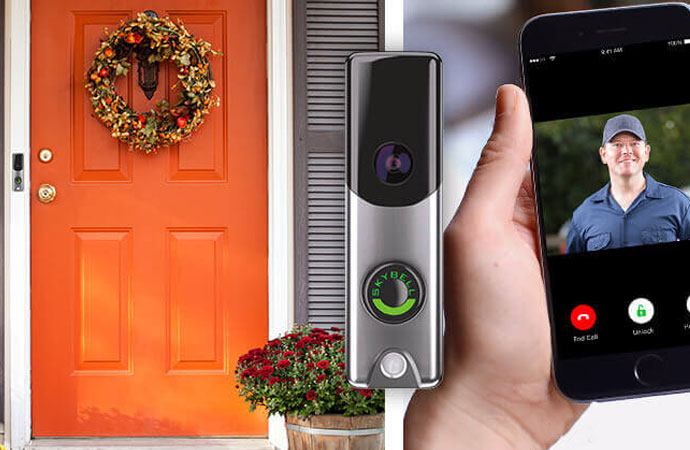 Convenience: Monitor visitors from other areas of your home without interruption. Unless it's a visitor you want to let into your home, choose to answer remotely, or not at all.

Intruder evidence: Your video doorbell system could help first responders quickly identify criminals and even recover stolen possessions. It documents theft for insurance claims and replace items or reimburse their values.

Potential deterrent: A video doorbell camera represents a potential threat of exposure to criminals. They might think twice about being apprehended if a doorbell camera is conspicuous.

Safety measure: If you detect a criminal or intruder before they detect you or other family members, that knowledge can help you alert first responders ahead of potential danger. Knowing you can escape harm's way via another route is also a plus.
Trust Advanced Systems For Most Reliable Video Doorbell Cameras in East Texas
Our video doorbell cameras are highly advanced to meet your security concerns and requirements and exceptionally fortify your home security. Advanced Systems Alarm Services can help you easily monitor, detect issues, capture and record security footage, as well as notify authorities, with convenient access control through the Alarm.com app.
We offer exclusive video doorbell camera installation in Tyler, Lufkin, Baytown, Dallas-Fort Worth, and anywhere throughout our D/FW and East Texas service area. Call 409-204-4898 for the most professional, superior home security in Texas, including video doorbell CCTV cameras, IP cameras, floodlight cameras, analog cameras, PoE cameras, and more CCTV systems. Additional ASAS security services include: