Floodlight Camera Installation in Beaumont & Tyler, Texas
Floodlight cameras operate off infrared (IR) heat detection and motion sensors to illuminate a wide area of 140 or more degrees. These high-resolution cameras can attach to an outdoor lighting source or wirelessly to a Wi-Fi system for access control from a phone or mobile device.
At Advanced Systems Alarm Services, our CCTV cameras are capable of HD1080p resolution, and with an Alarm.com app on your cell phone, you have full access to monitor your property from multiple floodlight camera locations.
Advanced Systems Alarm Services has the resources, expertise, and experience for reliable floodlight security camera installation for your home in Addison, Anna, Dallas, Nederland, Beaumont, or throughout our D/FW and East Texas service area. To learn more about floodlight security camera installation options, call 409-204-4898 or contact us online to arrange a home security consultation.
Why Floodlight CCTV Cameras By Advanced in D/FW & Beaumont, TX?
Having the professionals at Advanced Systems Alarms Services install your new floodlight CCTV camera system has these benefits: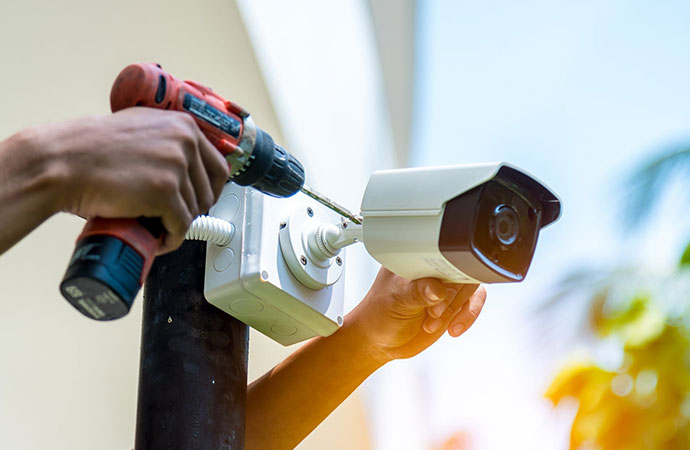 Weather-resistant: Floodlight cameras are weather-resistant, allowing them to be used outdoors longer than non-certified ones. This product will withstand heavy rain and high and low temperatures.

Night vision: Floodlight surveillance cameras are equipped with night vision capability. Night vision gives the camera a complete and clear view of nighttime activity and a better awareness of what is happening outside your home after dark.

Motion detection: Floodlight cameras come with motion detection sensors, so you will never be off guard. Motion detection alerts you to the moment there is movement and is the most reliable type of detection on the outdoor security market. It can distinguish people from other movement. It requires less energy from it's power source.
More ASAS Surveillance Camera Installation Services
Advanced Systems Alarm Services offers numerous CCTV camera installation services for homes, including:
Trust Advanced Systems For Most Reliable Floodlight Security Cameras in East Texas
Our floodlight security cameras are highly advanced to meet your security concerns and requirements and exceptionally fortify your home security. Advanced Systems Alarm Services can help you easily monitor, detect issues, capture and record security footage, as well as notify authorities, with convenient access control through the Alarm.com app.
We offer exclusive floodlight security camera installation in Tyler, Lufkin, Baytown, Dallas-Fort Worth, and anywhere throughout our D/FW and East Texas service area. Call 409-204-4898 for the most professional, superior home security in Texas, including floodlight CCTV cameras. Additional ASAS security services include: