Fire Sprinkler Systems in Beaumont, Port Arthur, & Tyler
The fire sprinkler systems from Advanced Systems Alarm Services (ASAS) are the most reliable systems available in Beaumont, Port Arthur, Tyler, Lufkin, Nederland, and dozens of other Texas cities that we serve. We can help you meet your most vital mission: safety.
Effective fire suppression and fire alarm monitoring represent a multifaceted challenge that demands a wealth of products, systems, and knowledge. We have long been a leader in helping to protect people and property at home and at work. We have been delivering expertise, innovations, and services to our customers ever since we started our operation.
At ASAS, we manufacture, configure, and install an unmatched range of fire sprinkler systems including sprinklers & valves, extinguishers & agents, special hazards systems, related components, and fittings. We serve a wide range of businesses with our fire-suppression products and services, providing software that helps users design and configure systems to meet their unique requirements.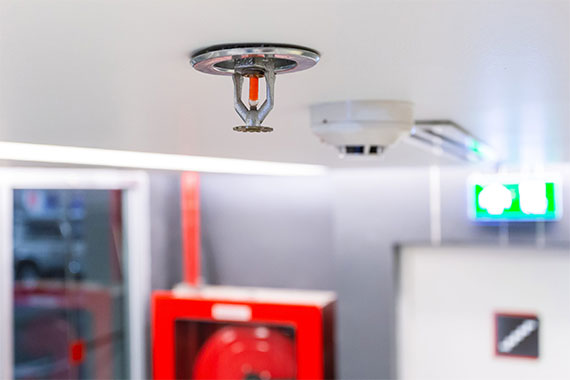 Who Needs a Fire Sprinkler System?
Fire sprinkler systems are designed to detect and suppress fires quickly to minimize damage, clean-up, and downtime. Such systems are typically used to protect:
Financial records
Server rooms
Health care records
Museums and collectibles
Homes and businesses with high-value assets or property that would be permanently damaged by traditional water-based fire protection systems benefit from fire sprinkler systems. These systems deploy clean agents instead of water, effectively removing the heat from the fire without causing damage to your valuable equipment.
Choose Us to Install Your Fire Sprinkler System in Beaumont, Port Arthur, & Nederland
Advanced Systems Alarm Services has earned itself a very respectful position in the customers' minds since its beginning. Our trained & experienced professionals are dedicated 24/7 to your service in Beaumont, Port Arthur, Lindale, Moscow, and other cities that we serve. They will install any device you need. Just call us today at 409-204-4898 to schedule your appointment.