24/7 Home Monitoring Services in Golden Triangle Region, Southeast Texas
Advanced Systems Alarm Services (ASAS) provides the right kind of products & services for 24/7 home monitoring in Golden Triangle Region, Southeast Texas. Our cameras are powered by industry leaders like Alarm.com which ensures quality and trust for achieving a respectful space in the users' minds for years now.
24/7 Home Monitoring is just like prevention before a disease breaks out. While an indoor camera will record moments happening at each corner of the house and save the videos for future usage, the smart home app installed on your phone will allow you access to those HD1080P videos captured by the CCTV cameras.
24/7 Home Monitoring by ASAS
We, at Advanced Systems Alarm Services, take things to a higher standard by making sure nothing comes in the way of ensuring 24X7 safety by providing our customers with IR Night Vision cameras that enable them to keep a similar high-quality track of the events happening in the entire house. These IR night vision cameras are of a similar quality that is used by the military, law enforcement agencies, hunters for hidden-object detection, surveillance, security, navigation, and similar other activities.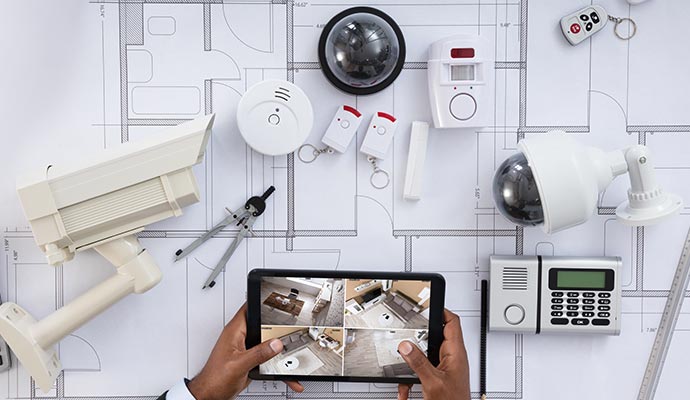 Cellular & Wireless Alarm System Monitoring
Cellular alarm monitoring service is the new standard in home security monitoring. Operating on a dedicated cellular channel, the system sends a wireless signal via a secure, encrypted transmission to the monitoring center in case of an emergency.
The technology works by installing a "cellular chip" into the control panel of the alarm system. This control panel then acts as the communicator between your alarm system and the monitoring station. This enables cellular alarm signals to reach the monitoring station quickly and without disruption.
Burglary Monitoring
Our alarm security systems are constantly monitoring your home to ensure that once a burglary alarm is received at a Customer Monitoring Center, a trained ASAS professional will notify you and the first responders, quickly.
Fire and Smoke Monitoring
When a fire and smoke alarm sets off in your home the signal is immediately sent to our central station and our trained professional will notify you and your local fire department for immediate response.
Carbon Monoxide Monitoring
A carbon monoxide (CO) leak can spell a serious life threat since it can be impossible to detect it without a warning device. Make your home a safer place with our CO monitoring services.
Medical Alert Monitoring
We also provide medical alert monitoring for home alarm security systems. So the elders can be looked after even in your absence. They will stay connected to our trained professionals in central stations through the two-way voice intercom system. If assistance is needed, this professional will contact the appropriate emergency response services.
Why Choose Advanced Systems Alarm Services?
ASAS has earned itself a very respectful position in the customers' minds since its beginning. Our trained & experienced professionals are dedicated 24/7 to your service with wifi, cellular, and 2-way communication in Coldspring, Gallatin, Lindale, Moscow, and other places of the Golden Triangle region of Southeast Texas. They will install any device you need. Just call us today at 409-204-4898 to schedule your appointment.