Burglary Detection in Golden Triangle Region, Southeast Texas
Advanced Systems Alarm Services (ASAS) provides state-of-the-art burglary detection systems for the customers of the Golden Triangle Region, Southeast Texas. Our burglary detection sensors are integrated with easy-to-use mobile applications. We will ensure you can see what is happening in your home at any time you want and get instant alerts for emergency triggers.
We provide installation, 24/7 monitoring, inspection, replacement, and repair services for all kinds of residential security systems such as motion sensors, smart doorbells, glass break detectors, and so on within our service area.
Burglary Detection Systems by Advanced Systems Alarm Services
Door & Window Sensors
Door & window sensors come in two pieces: one piece is attached to the door or window, and its counterpart to the frame aligned right next to each other. When the two pieces are separated, such as when the door or window is opened or breached, if the alarm is on, the sensor sends a signal to the main control panel triggering an alarm.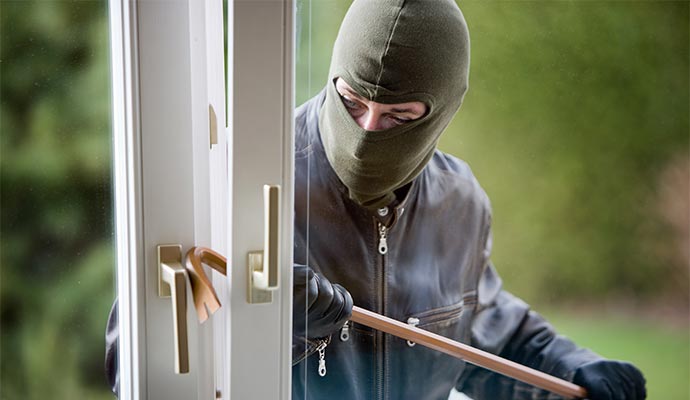 Smart Sensors
Smart sensors give an extra layer of protection from burglary to your home. If windows, doors, or any other vulnerable spots of your home are breached while your system is armed, you'll receive an alert through the control panel and the Alarm.com smart home app. Our 24/7 monitoring station will also be alerted and our professionals can immediately contact you and respective authorities (police, fire, and others) to assist in the emergency situation.
Motion Sensors
The majority of break-ins occur during vacation seasons (summer/winter) and at night. With a motion sensor, any unexpected movement will be detected and will trigger an alarm, notifying our 24/7 monitoring center immediately.
Motion Detection Lights
Motion sensor floodlights, door lights, and other exterior lights switch on automatically when anybody comes too close to your property.
Infrared Detection
Motion sensors often rely on infrared energy detection. As someone moves through a room, the sensor detects the changes in infrared energy and activates an alarm. One of its biggest advantages is, it can detect motion from a distance and even in low-light conditions.
Glass Break Detectors
If a burglar breaks into your home by smashing a window instead of forcing it open, you will need a glass break detector to give you the required security alert.
Glass break detectors complement door and window sensors by monitoring sound or vibration. These devices can remain armed all the time and don't need to be turned off when you or your family are at home.
Smart Garage Doors
Burglars can open your garage door in under a minute making it one of the most vulnerable parts of your home. We offer various garage door security products (motion detection light, smart garage door opener, and others.) with home automation integration for easy monitoring and burglar protection.
Why Choose Advanced Systems Alarm Services?
ASAS has earned itself a very respectful position in the customers' minds since its beginning. Our trained & experienced professionals are dedicated 24/7 to your service in Cushing, Denton, Farmersville, Greenwood, Highland Village, and other places of the Golden Triangle region of Southeast Texas. They will install any device you need. Just call us today at 409-204-4898 to schedule your appointment.