Prevent Unauthorized Access in Beaumont & Port Arthur, TX
Loss management and security involve limiting access. Sensitive areas on commercial properties aren't open to everyone. Loss of property, revenue, intellectual assets, data and more are real threats. Commercial, and sometimes residential properties, require access control for security, safety and to prevent unauthorized access.
Safeguards against external or internal theft, burglary or other intrusions can be monitored with advanced access control systems by Advanced Systems Alarm Services. A property security and surveillance system protects your employees, customers and assets. At Advanced Systems Alarm Services, we'll assist you with access control to prevent unauthorized access to and within your commercial or residential property.
For assistance in Beaumont, Tyler, Palestine and throughout our service Texas service area, call 409-204-4898 or contact us online to learn more and arrange a consultation.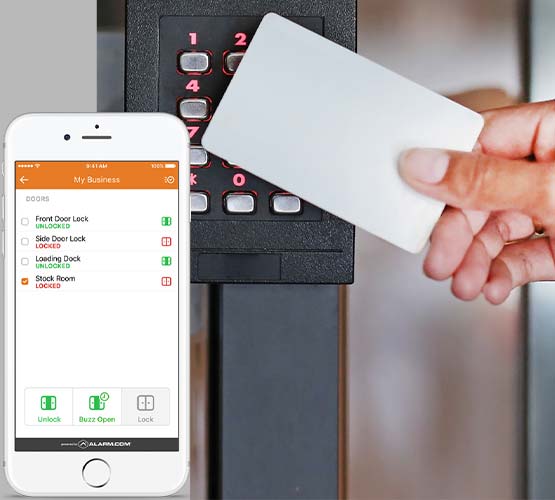 Advanced Systems Access Control Prevents Unauthorized Access in Tyler
CCTV cameras and lights: Cameras and bright lights are two of the most effective burglary deterrents. Burglars are less likely to attempt a break-in in buildings with ample lighting and video surveillance. You can limit attempts at unauthorized access to your business by installing a video surveillance system and lighting.
24/7 monitoring: Modern commercial security systems come with alerts and controls on mobile devices to make them easier to administer. You can also set the alarm to activate automatically for specific hours and days of the week or to protect particular entrances to the building 24/7.
Reliable security doors: Reliable exterior security doors are an essential for commercial security. Heavier, perhaps metal, doors limit or prevent unauthorize access by their strength, and securing those doors with surveillance, motion sensors, or other safety enhancements gives you more peace of mind.