Kitchen Hood Fire Suppression System in Beaumont & Tyler
As a leading security and fire alarm systems provider in Texas, Advanced Systems Alarm Services understand how to design the right fire suppression system for your kitchen. Whether you have a standard restaurant appliance or a large multi-faceted cooking application, we have the resources to equip your kitchen environment with the appropriate kitchen hood fire suppression system. We are partnered with leading wet chemical fire suppression manufacturers like Pyro-Chem & ProTex II™.
We bring the highest standard of fire suppression systems to our customers in Carrollton, Decatur, Nederland, Arlington, & other nearby areas in Texas. Simply call Advanced Systems Alarm Services at 409-204-4898 or click here for kitchen hood fire suppression systems.
Certified Systems to Protect Your Kitchen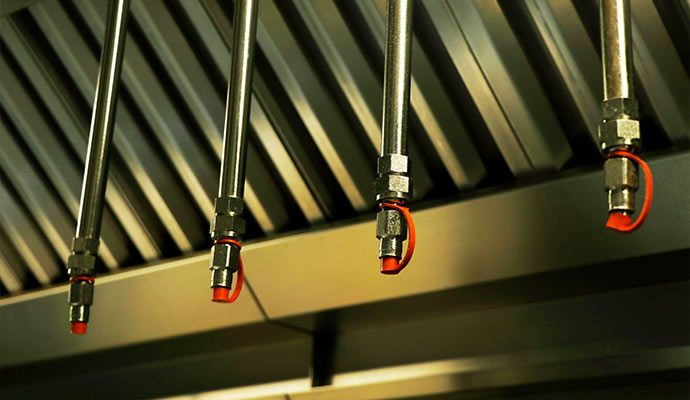 Advanced Systems Alarm Services offers National Fire Protection Association (NFPA) & UL-300-compliant fire suppression systems that work wonders when it comes to eliminating & minimizing fire hazards.
We only provide our clients with the highest-grade fire suppression products that are heavily tested and certified. Furthermore, our team consists of experienced professionals who know the best strategies for installing an effective fire suppression system.
Additional Fire Alarm Systems We Provide
Advanced Systems Alarm Services is a specialist when it comes to installing fire alarm systems. With the help of state-of-the-art equipment, we provide:
Industries We Serve
Kitchen fires are one of the biggest reasons for deaths in the U.S. Hence, you need a reliable fire suppression system in place to protect your property at all times. Advanced System Alarm Services can provide superior kitchen hood fire suppression systems for your business. Different industries we serve include:
The kitchen hood fire suppression system we implement kicks in during fire outbreaks and subdues the fire before major damages occur. Give us a call today at 409-204-4898 for affordable fire suppression systems from Advanced Systems Alarm Services.